IF YOU DON'T GET PAID, WE DON'T GET PAID!
THE BEST INSURANCE CLAIM REPRESENTATION IN FORT LAUDERDALE AT TO UPFRONT COST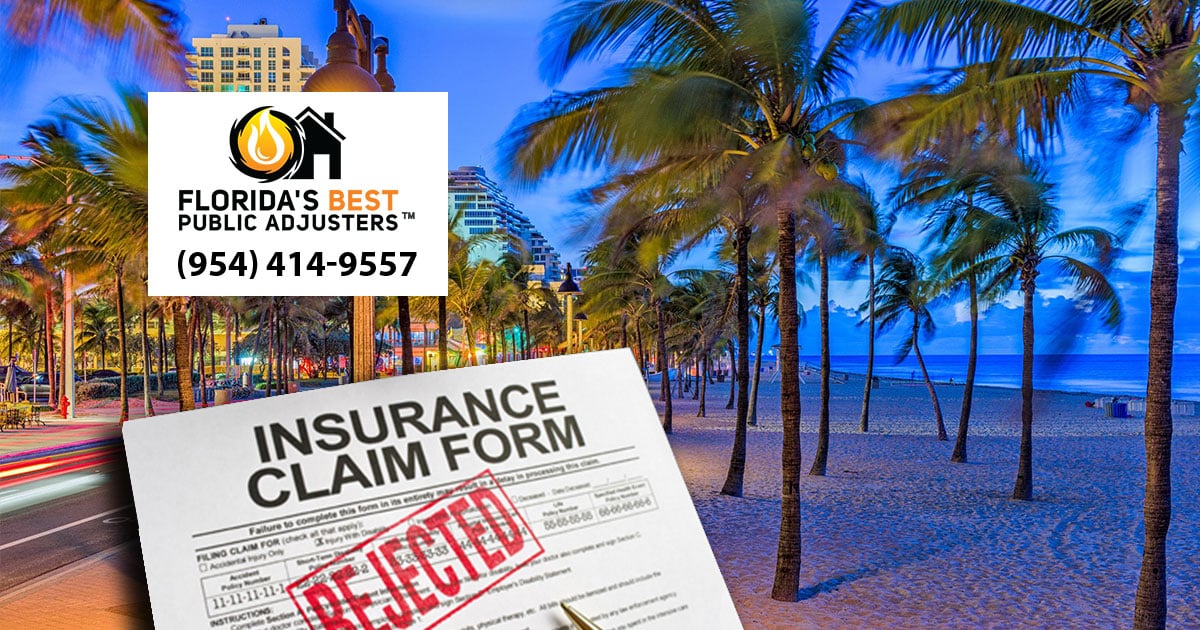 FORT LAUDERDALE PUBLIC ADJUSTERS
OUR PUBLIC ADJUSTERS ARE READY TO HELP!
It takes a lot of work to keep your home in good condition. Owning a home is incredibly rewarding, but when an accident happens and your home is damaged you need a public adjuster you can trust. While you may think your insurance company has your best interests, that isn't always the case. A good public adjuster will fight for you to make sure you're awarded a fair amount for the damages your home has ensued. If your home has become damaged and you're looking for a public adjuster in Fort Lauderdale contact our team at Florida's Best Public Adjusters. Our team has the experience and expertise to get you the settlement you deserve for the damages caused to your home.
If you try to fight the insurance company on your own you could risk having your claim gets denied or underpaid. Properly documenting the damages to your home is incredibly important, and if you don't you risk having your claim denied. That's why it's important to speak with our knowledgeable public adjusters after your home has been damaged. We'll make sure to take all of the necessary steps for you to get the compensation you deserve.
When you work with our team at Florida's Best Public Adjusters we don't get paid until you do! You can call our team and schedule your free consultation and we'll work with you until your claim is paid. Don't wait if your home has been damaged. It's important to contact a public adjuster as soon as possible to properly document all the damages that have occurred. We'll then work with the insurance company to make sure you're awarded the proper compensation. If your home has been damaged don't wait! Call Florida's Best Public Adjusters today at (954) 414-9557.
CALL NOW TO SPEAK TO A FORT LAUDERDALE PUBLIC ADJUSTER!
How Will a Public Adjuster in Fort Lauderdale Help Me?
A Public Adjuster Can Help You:
Nobody wants to think about their home being damaged, but if it happens you need to have a public adjuster you can turn to. Fires, floods, and other natural disasters can cause significant damage to your home. You don't have to fight the insurance company on your own. Our licensed public adjusters are here to fight for you against the insurance company to ensure you get awarded the compensation you deserve. After your home has been damaged you want to focus on repairing things and getting your home back to normal, not having to deal with your insurance company. There are many different ways in which a public adjuster can help you in Fort Lauderdale including:
• Inspecting your home
• Properly documenting the damages
• Giving accurate repair estimates
• Talking with the insurance company
FLORIDA'S BEST PUBLIC ADJUSTERS - FORT LAUDERDALE
PROFESSIONAL CLAIM REPRESENTATION
NO RECOVERY, NO FEE!
Florida's Best Public Adjusting Services can help with numerous home damages such as Water Damage, Roof Leaks, Hurricane, Flood, Smoke & Fire, Mold, Business Interruptions and more.
At Florida's Best Public Adjusters, no damage is too big or small for our services. Our public adjusters can work to ensure that you receive the proper settlement for your insurance claim so your damages can be fully repaired at no upfront cost to you.
Our adjusters work for you, not for the insurance company.
Storm Damage
Hurricane & Storm Damge
Florida residents are no strangers to tropical storms and hurricanes that can devastate your property. However, insurance carriers have modified their policies without a full explanation of what changes have taken place and how it affects your coverage. Our adjusters understand your policy and can translate whether it only provides coverage for damage due to wind or also damage from torrential rain, flooding or storm surge
Roof Damage
Roof Damage can be caused by several factors.
Roof Damage from Hail and Wind is handled differently than hurricane claims when it occurs in the absence of a "named" storm. Damage from Hail and Wind damage occurring outside of a "named" storm are covered under your standard insurance policy a great deal of the time. Hail/wind damage are not easy to prove. I will fight for the maximum amounts permitted under your homeowner or commercial business policy.
Water Damage
Hurricane & Storm Damge
Sometimes a small leak can turn into a major headache and your insurance policy may or may not cover the leak depending on its source. The public adjusters at Florida's Best Public Adjusters are property damage experts with years of experience handling water damage issues regardless of the source.
Mold Damage
Roof Damage can be caused by several factors.
Mold resulting from flooding, a broken pipe or other water-related issue can severely affect your health and property without your knowledge. Here in Florida's warm, humid climate mold is particularly aggressive causing a variety of serious health issues. It is also your property's potential enemy since it can weaken the building's structure much as termites do.
Smoke & Fire Damage
Smoke and Fire Damage
Even a small, accidental kitchen fire can cause a big headache. Perhaps it's a lightning strike, a careless cigarette or an encroaching wildfire. Dealing with city and county officials, your insurance company and the fire department is stressful and time-consuming. After evaluating the damage caused by flame, smoke and water, your public adjuster will review your insurance policy to determine coverage.
Sinkholes
Roof Damage can be caused by several factors.
Sinkholes can cause extensive property damage depending on their size and depth. Some swallow entire buildings; others leave a house or commercial property heavily damaged or uninhabitable. In many cases, your insurance carrier will send a professional engineering team (that work for the insurance company) to drill into the ground and analyze the soil composition to determine whether there has been sinkhole activity. As your representative, we secure the same reports from an objective provider.
Business Interruption
Business Interruption
In the event that a disaster should impact your business, it may result in your place of work becoming unusable. Losses can be from fire, smoke, water damage, mechanical breakage of large machinery, hurricane, storm or wind damage, etc. Income will not be produced while fixed costs may continue to incur (e.g. rent, utilities, etc.)
During this period of business interruption, whatever income your business would have made cannot be used. Our forensic specialists analyze your historic financial records to determine this unusable income and work hard to speed up the process which gets you paid quickly.
Dropped or Fallen Objects
Personal Injury
Face it, we are all clumsy. Some accidents happen without human interaction. Heavy wall mounted objects of art fall and damage walls, floors and furniture. These falling or dropped object claims are valid and are generally able to be submitted as claims subject to your policy deductible.
In Florida the statute is to repair or replace with matching material. If your finishes are older it may be impossible to repair one area so that it matches. In that case your insurance company may be persuaded by Florida's Best Public Adjusters to provide for the replacement of the entire floor, counter, patio tile, etc. that was a result of sudden and accidental damage to your property from a dropped or falling object.!
REQUEST YOUR
FREE CLAIM ANALYSIS
Our Public Adjusters
Work for YOU,
NOT the insurance company.
When damage to your home or business requires that you file an insurance claim, don't face the insurance carrier alone. Don't settle for what the insurance company thinks you deserve. Insurance companies typically offer an initial settlement that is only a fraction of your claim value.
Get The Settlement You're Entitled To