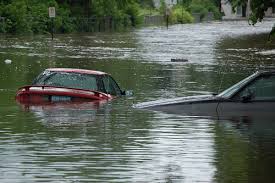 Floods can occur anywhere it rains, so do not think that your home is an exception. You should be prepared when you hear flood warnings. Here is a list of things you need to do.
Now
-Emergency supply kit: food, water, batteries, flashlights, backup phone, radio, medical supplies (daily medications, bandages, etc).
-Be attentive to flood warnings and announcements.
-Family plan: know how your family is going to get in touch with each other if you are not all together at the time of a flood. Do you have an evacuation plan? What if the roads are not drive-able? Where in your home will your family gather for safety? Keep your emergency kit in this area of your home.
-Construct barriers: Seal walls in basements with waterproofing compounds. If there is a flood warning, board up your home to protect yourselves.
-Install check valves to prevent water from backing up your drains.
Upon Flood Warning
-Keep radio nearby to stay updated on flood progression
-Move to higher ground
-Determine if it is necessary to evacuate or if it is safer to stay home. If there is more than 6 inches of water, do NOT drive. 6 inches is enough to cause loss of control. A foot of water can cause your vehicle to be swept away.
–Secure your home: bring in outdoor furniture and move important documents and items upstairs.
Most importantly, make sure you family members are safe. Documents and other material possessions can be replaced, but your loved ones cannot. Be sure you have enough food and water for 72 hours. Also be sure not to forget about your pets! They need food and water, too.
Please go to http://www.ready.gov/floods for more flood information.