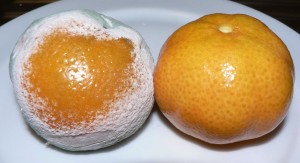 We've all heard of mold, but do you know what it actually is, how it can affect your health, and what to do if you find it in your home?
Mold is a fungus found both indoors and outdoors. The exact number of species of mold is unknown, but it is estimated that there are tens of thousands to three hundred thousand species.
Common molds
Cladosporium
Penicllium
Alternaria
Aspergillus
Can mold affect my health?
Yes! Some people are more sensitive to mold than others. Symptoms include eye/skin irritation, wheezing, or nasal stuffiness. More serious reactions can occur, including fever and shortness of breath. Prolonged exposure to mold can lead to severe damage to your health and can weaken your immune system. If you suspect you might have mold in your home, go to a doctor.
Where does mold grow?
Mold prefers warm and humid conditions, but it can grow in cool conditions as well. Although you may think you're safe from mold in the winter, it can grow in cold, un-insulated exterior walls and windows where the building surface is cold compared to the indoor temperature. Air conditioners that are either too large or too small or poorly maintained are a great place for it to grow. This is dangerous because it can be distributed throughout your home through your cooling system. It is important to adhere to the expiration dates on food because often mold will grow on your food, like bread, cheese, etc.
Clean it up and fix the water problem that caused the mold to grow in the first place. Remove it with commercial products, soap and water, or bleach solution (no more than 1 cup bleach in 1 gallon of water). Never mix bleach with ammonia or other household cleaners. Open windows for fresh air. Wear gloves and eye protection. If infected area is more than 10 sq ft, consult the EPA. 

How do I avoid mold?
If your house is flooded, be sure to open your windows to air out your home, because mold will love the moisture left behind from the flood. Control humidity in your home and ventilate areas that are prone to heat and/or moisture, like the kitchen and bathroom. If you live in a humid climate, invest in a dehumidifier.