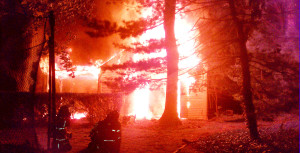 Going through a house fire is a big deal, no matter how small the fire was. Whether your toaster burst into flames or a gas leak caused an explosion, it is important to know what to do after the flames die down.
Safety
First, before you go back into your home, make sure the fire department says it is safe to enter the house. It is possible that flames may appear to be out and then start up again. Ask to make sure they checked all utility services (gas, water, electricity).
Check on your pets. They are most likely just as rattled as you are. It is a good idea to have them stay with family or friends for a few days while your house gets back to its normal state. Make sure they are breathing normally as they may have inhaled smoke.
Do no eat, drink, or breathe in anything that has been near the fire's flames, smoke, soot, or water that was used to put out the fire.
Ventilate your home. You need to get rid of any remaining smoke leftover from the fire. Due to the water used to put out the fire, it is possible for mold to grow if the home does not get fresh air.
Records
Check on important documents. If they have been lost or ruined, be sure to get a copy of them as soon as possible. This includes drivers's license, auto registration, bankbooks, insurance policies, passports, birth/death/marriage certificates, Social Security/Medicare cards, titles to deeds, wills, medical records, tax records, mortgage papers, etc.
If your credit cards were lost in the fire, be sure to call your credit card company to have them replaced.
If you find burned money in your home, handle it with care. Place it in a plastic bag to preserve it. If more than half a bill is left intact, take it to your regional Federal Reserve Bank to get it replaced. That money is still worth something!
Go to the fire department or fire marshal's office to get a copy of the fire report. This is important to have for insurance purposes.
Record all damage made by the fire. It is a good idea to video or photograph your home as soon as it is safe to enter. Take time to list the value of all damaged belongings, as well. In case of another fire, be sure to record all belongings in your home with their respective values.
Keep track of all expenses made. If you need to stay somewhere else while your home is being repaired, record money spent on living situations.
Planning
If your family did not have an evacuation plan at the time of the fire, make one now. It is crucial that you all know what to do in case of an emergency.
If you used a fire extinguisher, replace it. If you did not have one at the time of the fire, buy one and place it in your home.
Look into having a home fire sprinkler system installed. This could save you, your family, and your belongings in case of a future fire.
If you have children, go over fire safety with them. They need to know not to place aluminum foil in the microwave, not to use a fork to get toast out of the toaster, and to stay low to the ground to avoid inhaling smoke.
Take the time to check your belongings, and, most importantly, your loved ones. A fire of any size is not something to take lightly.