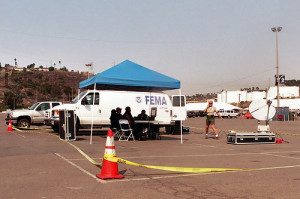 The Federal Emergency Management Agency (FEMA) runs the National Flood Insurance Program. Unlike other types of property damage, you cannot get flood insurance through commercial sources because the risk of flood is not conducive to a rate structure that turns a profit. Thus, flood insurance is uniquely unlike other types of property insurance.
Additionally, since it is a federal program, it is run by a large, illegible bureaucracy. If you have ever been in the military or worked for a large company, you know firsthand how frustrating a large bureaucracy can be. Alternately, you might think about the reputation of your typical Department of Motor Vehicles. They are generally viewed as an exercise in frustration.
Between the governmental bureaucracy and the uniqueness of this coverage, filing a claim can be unlike any other claim process with which you might be familiar. This alone is a good argument for letting a professional adjuster handle your claim. In fact, the FEMA website has an entire section on adjuster workshops, certification, manuals and other professional resources. This is a strong hint that filing a flood claim is likely to be a headache you do not want to put yourself through.
Insurance is an industry which generally suffers from information overload. After your house floods and you are in the midst of putting your life back together, the last thing you need is to be hip deep government manuals and forms. Do yourself a favor and let someone else handle the flood insurance burden for you. It is the least you can do for your sanity.