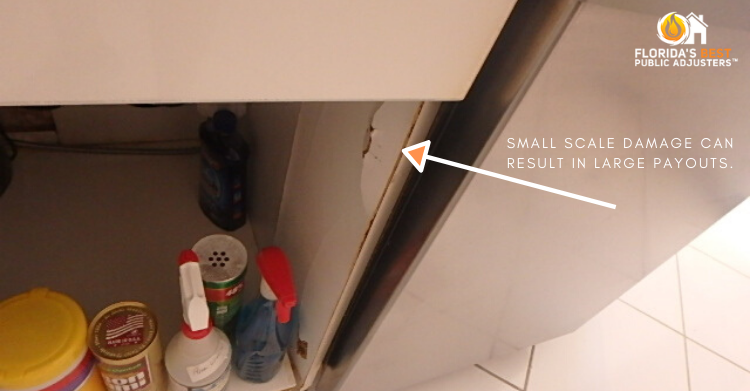 A new client in Boynton Beach put in a claim for water damage for a broken pipe in her kitchen. Initially, the client was unsure this was a claim she should hire a Public Adjuster for. However, after a brief consultation, we proceeded on her behalf to help handle the claim.
Unfortunately, we had to sue the carrier to get her paid. After the suit, the carrier settled for $20,000 on top of the initial $10,000. This is 300 percent better than before she hired us.
Oftentimes, many think that a Public Adjuster is only needed for catastrophic insurance claims when handling the aftermath of hurricane damage, tornado damage, or large-scale water damage. At Florida's Best Public Adjusters, we also have a division that specializes in smaller claims including, "small-to-the-eye" claims and water damage settlements. Even small-scale damage can result in huge payouts. No matter the damage, you shouldn't have to handle the intricate world of insurance claims on your own.
Water Damage Settlement
At Florida's Best Public Adjusters, we file all proper documentation and go to depositions on your behalf to get you the best water damage settlement you deserve. Unanticipated household water damage can wreak havoc on each person in the house and create enough stress on locating the damage and repairing it. Let us do the heavy lifting for you. Our Licensed Public Adjusters give you the time and dedication you deserve. Contact us today for a free consultation either on the phone or at your property to understand how we can better help you get a fair payout on your claim.